What is the Ultimate Art Calendar?
Videogames are what we love.
We once published an article on this website titled "Do You have Gamer's Block?" in which we explored the feeling of dissatisfaction and disengagement with games that used to be fulfilling to play. Although we looked at common symptoms and quick fixes to get you excited and engaged temporarily, there's a bigger picture here that we've yet to uncover.
If you've ever felt a nagging sense of restlessness or even guilt when sitting down to game, have you ignored it? Have you searched relentlessly for games that can hold your attention just enough to drown out that feeling? I certainly have.
Have you ever used videogames as an escape mechanism for difficult times, or perhaps to procrastinate from the things you know you should be doing? Do you have a sedentary job (office work, work from home etc.), spend your evenings gaming and then wonder why you can't get to sleep? Are you gaming more and more but getting less and less enjoyment from it? For me the answer to these was yes, yes and unfortunately, yes.
The solution to this is not as quick and easy as a case of Gamer's Block though. This issue goes deeper, it is an issue of Balance.
I'd like to introduce to you now a tool that I've been developing over the course of the past year. It's a calendar, an art book, and most importantly a personal development tool that I believe can improve the well-being of game lovers everywhere. And I've designed it just for you.
Introducing the Ultimate Art Calendar!
This calendar is designed with intent and careful attention to detail. Every inch is purpose-built and reusable to maximize value. Within the first page, you'll find a custom level progression system that I've designed to help keep yourself accountable to becoming the best you. What would your life look like if you were in your ultima, or final form? Would you be saved up for that dream home? Would you lose that 10 pounds and feel energized each morning when you wake up? Would you see your family more often and have healthier relationships? What would you eat? And most importantly, how would your relationship with gaming change because of it?
Inside this calendar is a leveling system that will be familiar to most RPG fans out there. You'll first assign yourself up to 4 "Daily Quests", which will be tracked using the corresponding quest icons in each day of the week. This will give you clear visibility into how often you are actioning your goals.
Next you'll discover there is a level progress bar. About once per week, you will add up your completed daily quests (each completed quest is worth 5 experience points). Using a light colored pencil crayon, you will gently color in the segments of your progress bar to represent your accumulated experience. Eventually you're going to fill the bar and increase your level! (This can happen as often as every 3 weeks or so). At this point, you'll write your new level and reset the bar by erasing the pencil crayon.
This brings us to the "Level Perks" section. Here is where you will need to define some rewards! Did you think this was going to be just hard work? This part is very important. Previously we discussed balance. We need to balance our hard work with rewards, that's how the dopamine systems in our brain work and that's how this calendar works as well. Think of some ways you could reward yourself for consistent achievement. Our advice here is to start small but meaningful, and only fill out the first reward to begin with, you can choose the rest as you go 
As you progress, you'll build a routine of reflecting on each day's accomplishments and challenges. We would advise making time for this around one hour before bed. One of the best ways to build a new habit is to attach it to an existing one so for instance if you usually brush your teeth before bed, make a habit to walk over while brushing and quickly fill out your calendar day. This will ensure you track progress daily, which is key for consistent improvement.
By the time you finish a whole month, look back at what you've achieved! Mark this achievement by cutting out the art piece on the reverse side of the month you've just completed and display it proudly on your wall. This isn't just a beautiful piece of art, it's a visual milestone of your consistent hard work. As you progress through this 12 month calendar, you can cut out and hang each of the 11 pieces around your calendar to create a stunning collage. You can hang them horizontally in a sequential series, create an art book, or frame them and give them as gifts. The possibilities are endless.
Here are some mockup examples for inspiration, but the way you display your art is completely up to you. Your calendar will contain 11 game-inspired prints from a range of artists. Included art pieces vary each month. If you don't want to hang any art, just cut out your level progress page and keep it somewhere you can easily access it, and otherwise hang the calendar like you would any other!


Stock images from Freepik.com, and Unsplash.
The Ultimate Art Calendar is a totally unique and customizable, feature-rich, value packed product that can't be found anywhere else but here! It is designed by gamers, for gamers. It contains 11 hand-crafted, game-inspired art designs from the most talented pixel artists around the world, printed on 100lb semi-gloss silk art-print quality paper.
We hope you choose to enter our contest and secure your chance at landing your very own!
Do you have any questions about the Calendar, the giveaway, or about our team? Would you like to be the first to know when future versions of this product are available to purchase? We would love to hear from you, consider subscribing using the email field in the footer below, or contacting us directly at info@timewasters.ca
Maki,
Timewasters Cofounder.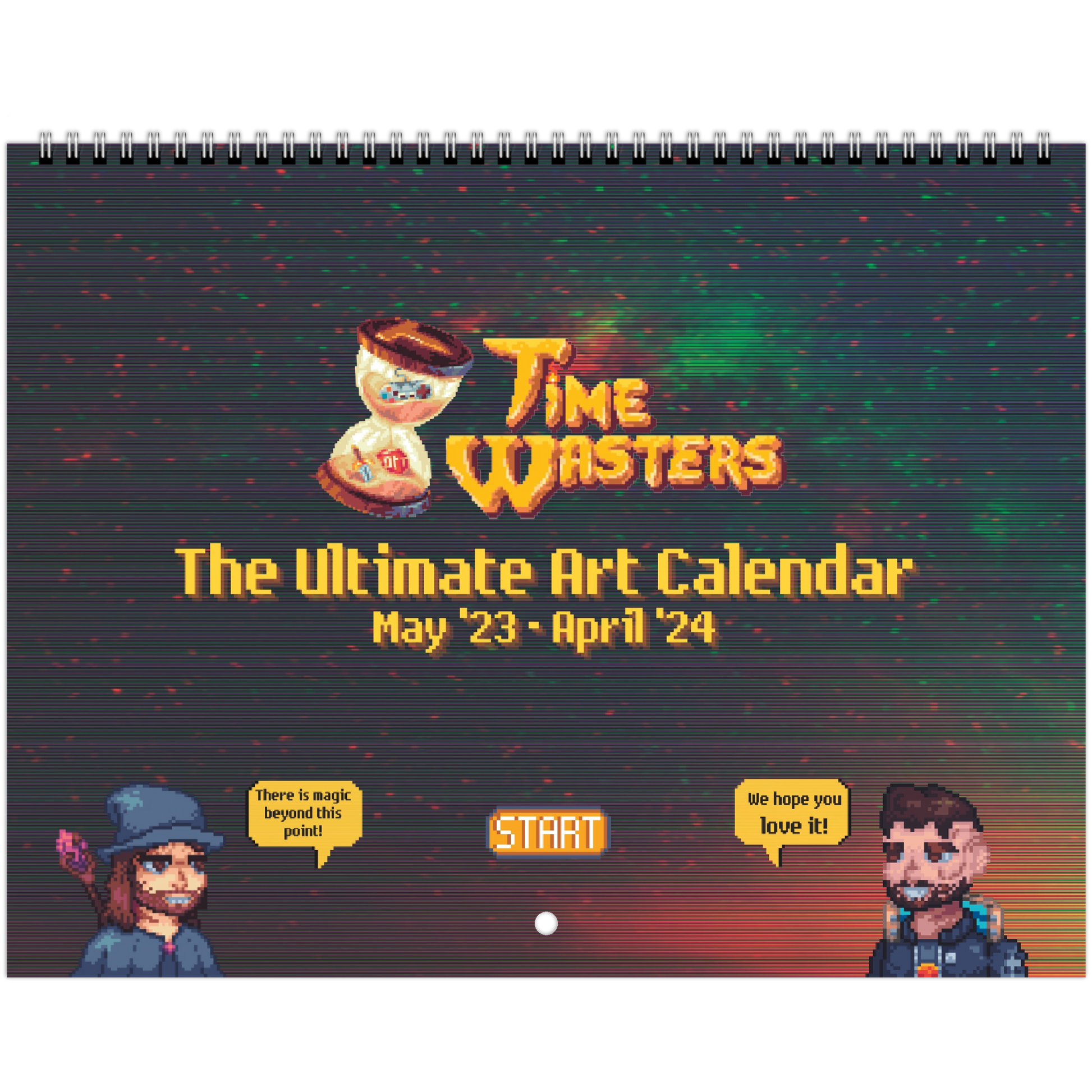 The Ultimate Art Calendar
Regular price
Sale price
$37.00 USD
Unit price
per
Sale
Sold out
Share
View full details